EDM Brass Wire Competitive Price EDM Wire Manufacturer

1.Type:Hard Brass wire
2.Wire guage: 0.25mm
3.Cu(mix):60% ; CuZn37&CuZn40
4.Alloy or not:alloy
5.Ultimate strength(Mpa):980-1180
6.Conductivity:22%-25%
7.Talarance: +/-0.001mm
8.Grade:first
9.Fitting machines:All edm wire cut machines
10.Packing:4 spools in a carton box
11.MOQ:500kg
Feature of edm wire:
.High strength:Quality raw material and multi-element copper alloy selected ;Advanced facilities ,experience techiques ,24 hours continuous pre-furnace trace testing .
.High precision:Advanced testing instrument,entire manufacturing techniques combining the latest fully automtic wire-stretching machines,complete guarantees precision 1000N/m2 strength,diameter tolerance within +/-0.001mm.
.Strict inspection and testing systems:Quality control systems with advanced chemical analyzers and physical inspection,testing facilities to ensure stability of chemical composition and optimized tensile strength,excllent surface,overall product quality.
Reasonable price :Never stop to improve our produce process and innovate new techniques to reduce produce cost,
so we can offer reasonable and competitive price to keep and atract our clients.
.Excellent service :With warm heart patiance to provide the best before-sales and after-sales vervice.
Condition
Specification
Diameter
Tolerance
Tensile
Strength
Spool / Weight
Hard
BSH1003
0.10mm
+0.001mm
≥980 N/mm2
DIN125(3kg,5kg)
BSH1503
0.15mm
DIN125(3kg,3.5kg)




P5(5kg)




DIN160(7kg,8kg)




DIN200(15kg,16kg)

BSH20**
0.20mm
BSH25**
0.25mm
BSH30**
0.30mm
Semi-hard
BSH25**
0.25mm
480~520 N/mm2
BSH30**
0.30mm
Soft
BSH25**
0.25mm
380~420N/mm2
BSH30**
0.30mm
Note: Remark " ** " is " Standard Weight ".
/
Our Certifications
1)Passed ISO9001:2008 quality certificate
2)Passed ISO/TS16949:2009 certificate
3)Passed GJB9001A-2001 military quality certificate.
4)Drafted GJB119.1A-119.4A-2001, GJB107-5110-2002, GB/T5330-2003,HB1862-93
/

/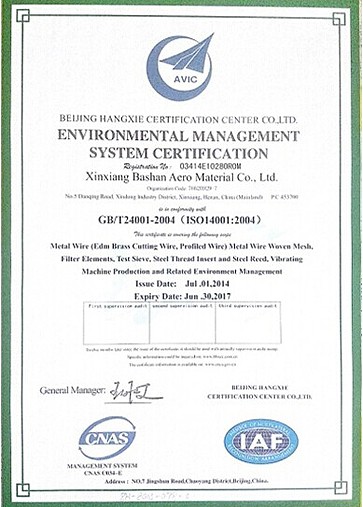 /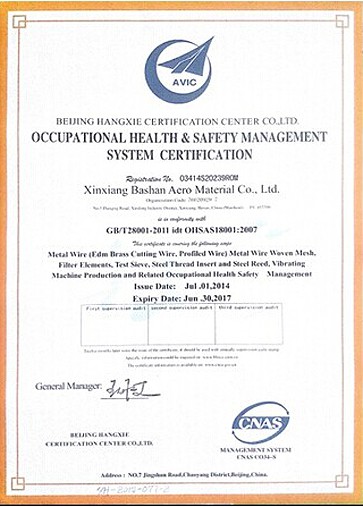 /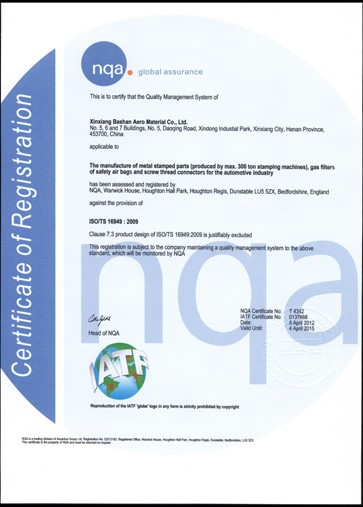 Our Company:/
Xinxiang Bashan Aero Material Co., Ltd.In more than 62 years experience of metal wire cold drawing, metal wire mesh weaving and deep processing products, Bashan with the largest produce scale, strong technical support capabilities, products specifications are in complete, our company is the main drafting company who make the GB/T5330; GB/T6003.1; GJB5107; HB1862 and other 19 wire mesh technology standards in China. Remark: GB is the China standard. Bashan company acquired 24 metals wire & mesh patent such as (GB/T4240, GB/T5330, GB/T6003, GJB107, HB1862, national standard; GJB national military defense standard; HB, aviation standard.).
Contact:
/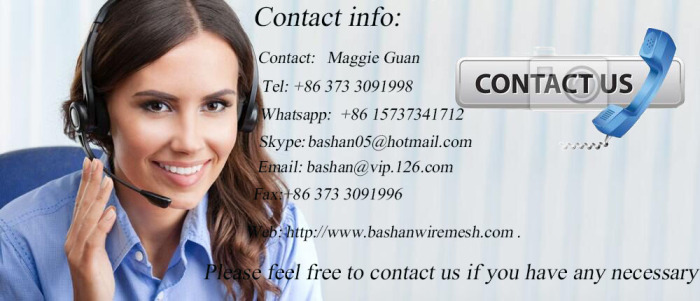 Tel: 86-373-3091998 Fax: 86-373-3091996 Mobile: 86-15737341712 Country: China (Mainland)