C shape type structure Z axis with linear guide . X.Y axis drive by stepper motor with synchronous belt and equip THK linear guide. Max tapper ±6°. Double sensors closed-loop control wire tension. Cutting parameter automatic adjustment according to workpiece. Wire winding and tighten by automatic. Z axis movement need not removing wire.
Accuracy
1. Continuous cutting 30000mm2 Ra ≤ 1.0 μm
2. Continually cutting 30 pcs same parts without operator intervention, The consistency error of parts are 5 μm.
3. Multiple processing the 200mm thickness parts without wire guide, the width error of upper, middle and lower <0.02 mm.
Specification
Machine Type
QC350


Table size mm
840×620


Table travel mm
350×400


UV axis travel mm
±25


Workpiece max .thickness mm
250
(can upgrade 400)


Workpiece max.weight kg
450


Machine weigh KG
1400


Max .taper cutting
±6 (need installwire guide)
Pulse equivalent mm
0.001
Wire speed m/s
1-15(speed adjustment by frequency conversion)
Overall processing speed mm2/min
60
The fast processing speed mm2/min
160
The best Roughness
≤ 1.0μm
Wire diameter
0.1-0.20
Composite machining accuracy mm
0.01
Drive tpye
Stepper motor (Can grade AC servo motor)
Guide
Japanese THK linear guide
X Y axis screw
ball screw made in China
Bearing
Japanese NSK bearing
measurement system
Electronic ruler
Volume of the tank L
100
Tank size mm
1080×620×630
Wire cylinder stroke mm
250
Features
1.Cutting parameter automatic adjustment according to workpiece.
2.Wire tension double sensors closed-loop control,real-time tension value display.
3.Wire respectively using for rough cutting and finish cutting.
4.Wire winding and tighten by automatic on drum.
5.Can multiple cutting of large taper and very thick products.
6.No need remove the wire when Z axis up and down.
Configuration

/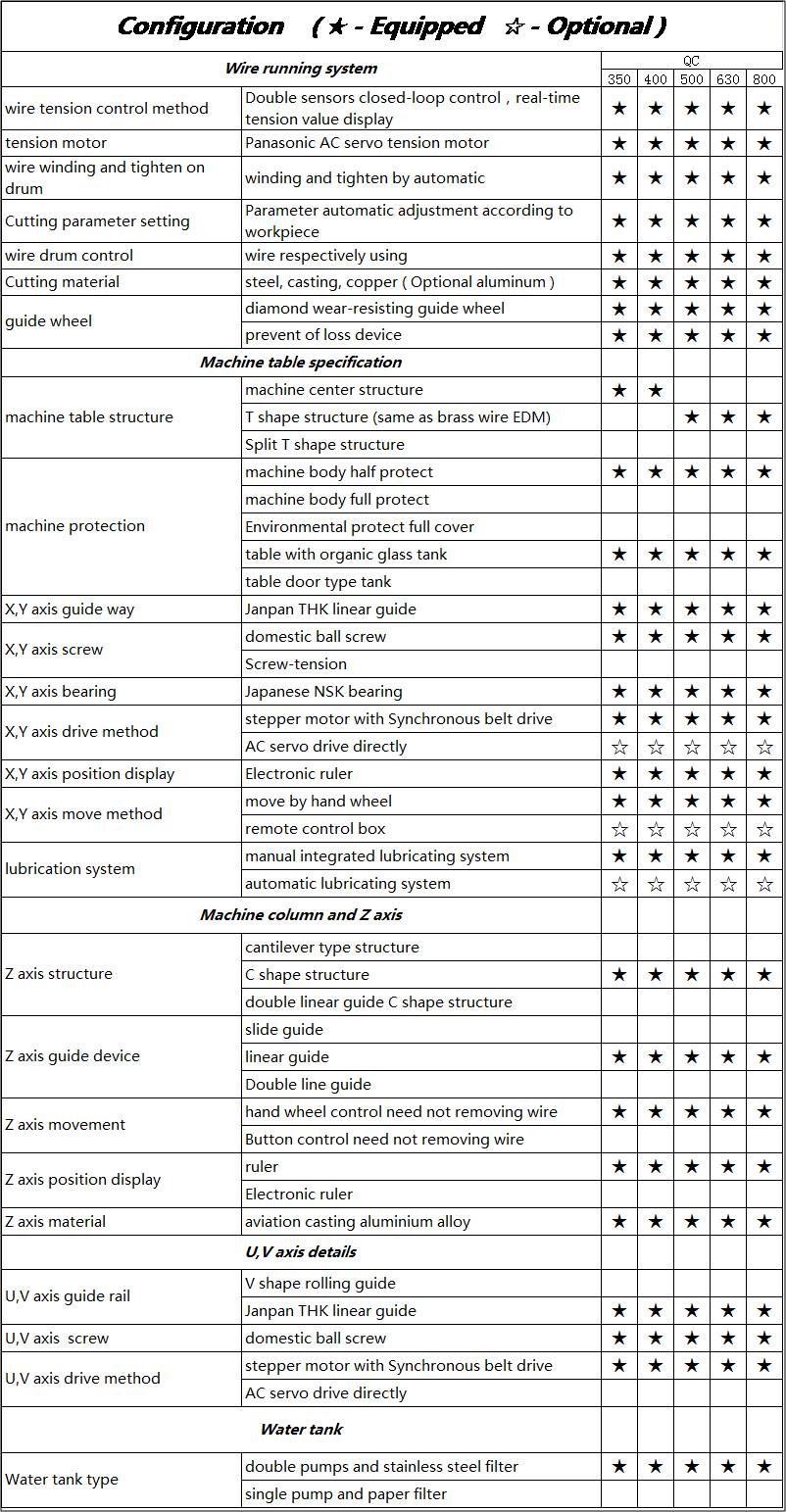 Tel: 86-28-63177610 Mobile: 0086 15982184426 Country: China (Mainland)