The SN420A model high-speed accelerated cooking oven utilizes a combination of forced convection, high speed impinged air, top launched microwave to shorten the cook times significantly. It can evenly and consistently cook, bake, roast, toast, brown, and crisp foods up to 18 times faster than conventional methods, resulting in a high level of throughput without compromising quality, the SN360 provides superior cooking performance while requiring less space and consuming less energy.
/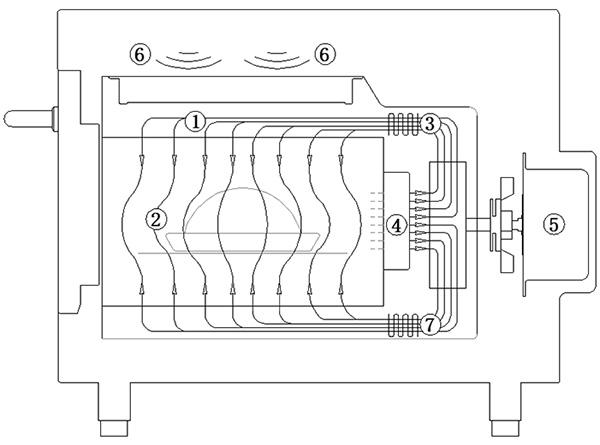 1. Forced Convection; 2. Variable-Speed Impinged Air; 3. Top Tuned Impingement Heater 4. Catalytic Converter; 5. Blower Motor 6. Top-Launched Microwave System; 7. Bottom Tuned Impingement Heater
Exterior Construction
1. Exterior 430 stainless steel.
2. Cool-to-touch exterior.
3. Adjustable legs.
Interior Construction
1.Interior 304 stainless steel.
2.Insulated cook chamber.
3.Removable metal rack and bottom jetplate.
4.Removable turntable (option).
Top-speed with lower noisy
Quiet operation – 48 dbA in standby mode
Standard Features
1.Touch mode friendly interface with smart menu system, controls are intuitive and simple to use.
2.Control language for operation: Chinese, English, German, French, Spanish, Portuguese, Spanish, Turkish.
3. Three "Set TEMP" modes to meet different temperature requirement.
4.Temperature setting: 0-280℃ (0-536F)