2019 new sale Johnson type water well screen tube with based casing pipe:
Slip on wedge wire screen consists of a perforated LCS base pipe and an outer stainless steel jacket slipped on it. Outer jacket is made of V-shaped profile wire, which is spirally wrapped around support rods welded in each intersecting point.
Wedge wire screen offers continuous slot openings providing high open area, as well as accurate slot dimension.
Materials: stainless steel wire AISI 304, 316L,
Benefits:
Certified slot accuracy along entire screen length;
Superior open area due to their continuous slot openings;
Keystone slot design for the maximum flow, better self-cleaning and minimum plugging;
Wide range of standard configurations;
Withstands high-pressure and high-temperature conditions;
A uniform and efficient well development due to long-term sand control;
Significantly reduce potential damage of surface equipment and subsequent maintenance costs
/
/
The V-shape section plane can avoid blockage, and make sure of the unimpeded water, the consecutive slot have more open area and it can reduce the speed of the water entering to avoid the sand entering the screen under the great pressure, so it can filter sand better.Meanwhile, the slot can change according to the real condition of the earth.
For both the base pipe and screen jacket, the specification can be customrized according to requirment.
Slot size: 0.05,0.1,0.15,0.2,0.25,0.3,0.5 to 20mm also achieved upon request.
Material: Low-carbon steel,medium carbon steel,stainless steel (304,304L,316,316L,duplex stainless steel,2205,2207)
Length: 30mm to 6000mm
Outer Diameter: 73mm to 600mm
Wedge Wire Specifications:0.75X1.5mm,1X2mm,1.5X2.5mm,2X3mm,2.3X4mm,3X5mm,3.5X6.5mm
End connection: Plain beveled ends, flanged or threaded couplings
/
/
Specfications:
/
/
/
Application:
Heavy oil, sand oil, SAGD, CBM, bitumen.
Water injection.
Horizontal, vertical, deviated oil and gas, water wells.
Stand-alone operations, cased hole, open hole environments and horizontal completions.
Packing:
Standard international package for the stainless steel well screens plate for oil filter
1. Wood package to keep the goods without the wet from the sea and the collision in the container
2. Plastics package:
Cheaper than the wood package and save more space for the goods load.
3. Woods pieces package:
Stronger than the plastic package, and cheaper than the wood package,
The best choose for the filters.
/
COMPANY:
Oasis oil tools co.,ltd has been awarded many honors and certifications such as patents of utility model authorized certificate, quality management system certificate, export licence and pre-export licenses. We can design all types of letters of credit according to your requirement. Oasis oil tools co.,ltd has developed into a famous and leading manufacturer which integrate the research and development, design, manufacture and sell. Welcome to visit our company.
/
/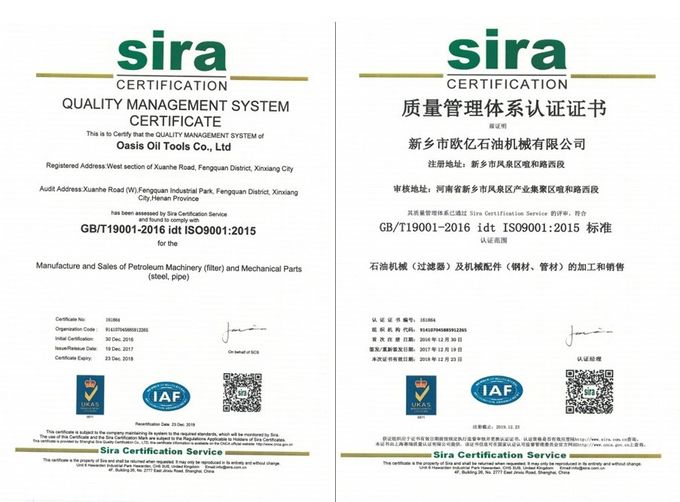 CONTACT:
Welcome to contact with us for more details:
Pipe based sand control screen:
/
Tel: 86-373-2947626 Fax: 86-373-3091997 Mobile: 86-15737341712 Country: China (Mainland)